Titanium Dioxide Addition to Heat Polymerized Acrylic Resin Denture Base Effect on Staphylococcus aureus and Candida albicans
Dwi Tjahyaning Putranti

Department of Prosthodontics, Faculty of Dentistry, University of North Sumatera

Afrina Fadilla

Department of Prosthodontics, Faculty of Dentistry, University of North Sumatera
Abstract
 
Introduction: Heat-polymerized acrylic resin is used to manufacture almost all denture bases. One of the disadvantages of acrylic resin is its porosity and surface roughness; food scraps attach easily. If the dentures are not cleaned, they become a place for microbial species development and cause denture stomatitis, with Staphylococcus aureus and Candida albicans as the major etiologic agents. Adding nanoparticles of titanium dioxide to heat-polymerized acrylic resin may provide antimicrobial activity to the acrylic resin base.
 
Objectives: This study aimed to determine whether adding TiO2 nanoparticles to heat-polymerized acrylic resin denture base materials affected the amounts of Staphylococcus aureus and Candida albicans.
 
Methods: The samples in this study used heat-polymerized acrylic resin without the addition of TiO2 nanoparticles and with the addition of 2%, 3%, and 4% TiO2 nanoparticles on test bar sizes of 10 mm × 10 mm × 1 mm. There were 48 total test samples: 24 of Staphylococcus aureus and 24 of Candida albicans. The obtained data were analyzed by a one-way ANOVA test.
 
Results: The results showed that adding TiO2 nanoparticles influenced the amount of Staphylococcus aureus (p<0.05) and Candida albicans (p<0.05). A least significant difference test showed differences of effect in the amounts of Staphylococcus aureus when TiO2 concentrations of 2%, 3%, and 4% were added to heat-polymerized acrylic resin denture base and there were differences in effect to amounts of Candida albicans when TiO2 concentrations of 2%, 3%, and 4% were added to heat-polymerized acrylic resin denture base.
 
Conclusion: Adding TiO2 nanoparticles to heat-polymerized acrylic resin denture base material affects the amounts of Staphylococcus aureus and Candida albicans.
References
Razak PA, Richard KMJ, Thankachan RP, Hafiz KAA, Kumar KN, Sameer KM. Geriatric oral health: a review article. J Int Oral Health. 2014;6(6):110-6.
Komariah, Sjam R. Kolonisasi Candida dalam rongga mulut. Majalah Kedokteran FK UKI 2012;28(1):39-47.
Ritonga PWU. 2015. Pengaruh desinfeksi gigi tiruan dengan energy microwave dan larutan kumur klorheksidin terhadap jumlah Candida albicans pada pemakai gigi tiruan penuh resin akrilik polimerisasi panas. Tesis. FKG USU: Medan.
Koopmans ASF, Kippuw n, Gaaff JD. Bacterial involvement in denture-induced stomatitis. J Dent Res. 1988;67(9):1246-50.
Minasari, Unita L. Efektifitas ekstrak temulawak (Curcuma xanthorrizaroxb) terhadap pertumbuhan Candida albicans dan Staphylococcus aureus dari denture stomatitis. Dept Biologi Oral FKG USU 2017;1-7.
Rahmayani L, Herwanda, Idawani M. Perilaku pemakai gigi tiruan terhadap pemeliharaan kebersihan gigi tiruan lepasan. J PDGI. 2013;62(3): 83-8.
Rueggeberg FA. Dental materials for complete denture. In: Rahn AO, et al. eds. Textbook of complete denture, 6th ed., USA: People's Medical Publishing House, 2006;8-10.
McCabe JF, Walls AWG. Applied dental materials. 9th ed., London: Blackwell, 2008;110-23.
Ferracane JL. Materials in dentistry principles and applications. 2nd ed., USA: Lippincott Williams & Wilkins, 2001;255-78.
Manappallil JJ. Basic dental materials. 3rd ed., New Delhi: Jaypee Brothers Medical Publishers (P), 1998; 94-123.
Dwiatmoko S, Kristiana D. Pengaruh komunikasi kesehatan secara lisan dan tulisan terhadap pengetahuan, sikap dan kebersihan gigi tiruan para pemakai gigi tiruan lepasan. Dentika Dent J. 2011; 16(1):14-7.
Baena-Monroy T, Moreno-Maldonado V, Franco-Martinez F, Aldape-Barrios B, Quindos G, Sanchez-Vargas LO. Candida albicans, Staphylococcus aureus and Streptococcus mutans colonization in patients wearing dental prosthesis. Med Patol Oral Cir Bucal. 2005;10:27-30.
Kuroki K, Hayashi T, Sato K, Asai T, Okano M, Kominami Y, et al. Effect of self-cured acrylic resin added with an inorganic antibacterial agent on Streptococcus mutans. Dent Materials J. 2010; 29:277-85.
Sodagar A, Khalil S, Kassasee MZ, Shahroudi AS, Pourakbari B, Bahador A. Antimicrobial properties of poly (methyl methacrylate) acrylic resin incorporated and titanium dioxide nanoparticles on cariogenic bacteria. J Orthod Sci. 2016;5(1):7-13.
Song R, Jiao X, Lin L. Improvement of mechanical and antimicrobial properties of denture base resin by nano-titanium dioxide and nano-silicon dioxide particles. Pigment & Resin Technology. 2011;40(6): 393-8.
Haghighi F, Mohammadi SR, Mohammadi P, Hosseinkhani S, Shidpour R. Antifungal acivity of TiO2 nanoparticles and EDTA on Candida albicans biofilms. Infect Epidemiol Med. 2013;1(1):33-8.
Gao Y, Masuda Y, Seo WS, Ohta H, Koumoto K. TiO2 nanoparticles prepared using an aqueous peroxotitanate solution. Ceramics Int. 2004; 30:1365-8.
Shibata T, Hamada N, Kimoto K, Sawada T, Sawada T, Kumada H, et al. Antifungal effect of acrylic resin containing apatite-coated TiO2 photocatalyst. Dent Materials J. 2007;26(3):43-4.
Badrodin M. Pemanfaatan nanopartikel perakdan titanium sebagai antikontaminan dalam kultur jaringan tumbuhan. Skripsi. Yogyakarta: Fakultas Biologi UGM, 2015.
Safavi K. Evaluation of using nanomaterial in tissue culture media and biological avtivity. Proceding International Conference on Ecological, Environmental and Biological Sciences 2nd in Bali (Indonesia):5-8.
Yang JY, Kim HJ, Chung CH. Photocatalytic antifungal activity against Candida albicans by TiO2 coated acrylic resin denture base. J Korean Acad Prost. 2006;44(3):284-94.
Anehosur GV, Kulkarni RD, Naik MG, Nadiger RK. Synthesis and determination of antimicrobial activity of visible light activated TiO2 nanoparticles with polymethyl methacrylate denture base resin against Staphylococcus aureus. J Gerontol Geriat Res. 2012; 1(1):1-8.
Fujishima A, Rao TN, Tryk DA. Titanium dioxide photocatalysis. J Photochemistry and Photobiology. 2000;1:1-21.
Murwani S, Qosimah D, Amri IA. Penyakit bakterial pada ternak hewan besar dan unggas.1st ed., Malang: UB Press, 2017: 265.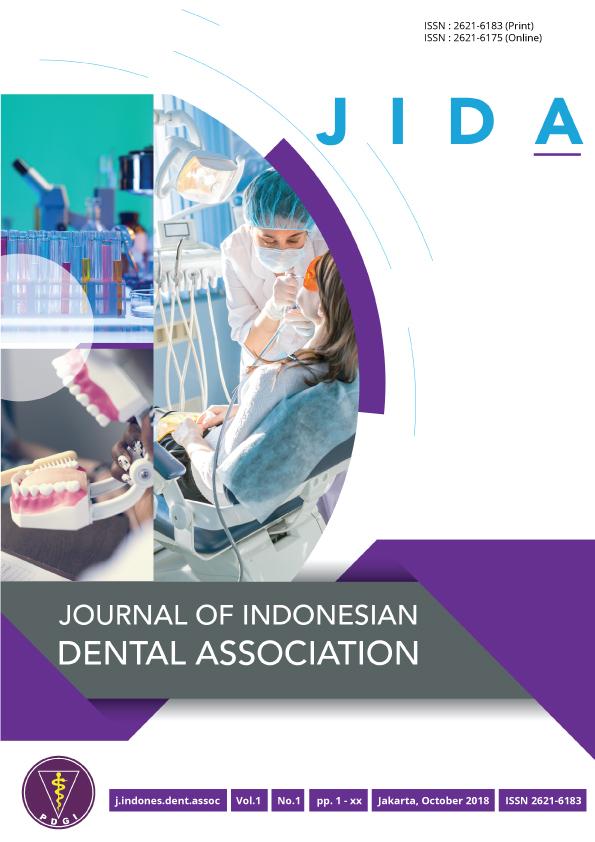 This work is licensed under a Creative Commons Attribution-NonCommercial-ShareAlike 4.0 International License.