Jigsaw versus Conventional Method towards Children's Attitude and Knowledge of Dental and Oral Health
Likky Tiara Alphianti

School of Dentistry, Faculty of Medicine and Health Sciences, Muhammadiyah University of Yogyakarta

Ariska Mei

Undergraduate Student, School of Dentistry, Faculty of Medicine and Health Sciences, Muhammadiyah University of Yogyakarta
Abstract
Introduction: The effort in improving dental and oral health could be taken by giving information about oral and dental health as early as possible. Jigsaw cooperative learning method and conventional learning method are two of several learning methods that commonly used in order to giving information about dental and oral health. Objectives: The purpose of this study was to determine the comparison between both learning methods between, jigsaw cooperative and conventional, towards children's attitude and knowledge of dental and oral health. Methods: This study was a quasi-experimental with non-randomized control group pre-test and post-test design. Sixty-eight students aged 10-11 from Muhammadiyah Suronatan Yogyakarta Elementary School was taken as the subjects and divided into 2 groups. Group A (n=36) was jigsaw cooperative learning method group and group B (n=32) was conventional learning method group. Each subject fulfilled two types questionnaire before and after giving lecture, such as attitude's questionnaire and knowledge's questionnaire of dental and oral health. Data were analyzed using paired t-test and independent t-test. Results: From the result of paired t-test, it showed that there were significant differences between before and after treatment in both groups at knowledge aspect (Group A: p=0.000 and group B: p=0.015) as well as attitude aspect (group A and B; p=0.000 respectively). Independent t-test showed there were significant differences between both groups in knowledge (p=0.003) and attitude (p=0.000). Conclusion: In this study, there were significant difference between jigsaw cooperative learning method and conventional learning method at knowledge and attitude aspects in children aged 10-11 years old. Children in group jigsaw cooperative learning method have higher score than children in group conventional learning method.
References
1. Arifah AN. Hubungan pengetahuan, sikap dan tindakan kesehatan gigi dan mulut terhadap status kebersihan mulut pelajar SMP/Mts Pondok Pesantren Putri Ummul Mukminin. [Skripsi]. Makassar: FKG UNHAS. 2016.
2. Mahardika AR, Susilarti, Marjana. Tingkat pengetahuan kesehatan gigi dan mulut dengan perilaku menggosok gigi pada siswa kelas IV dan V. Jurnal Gigi dan Mulut. 2016;03(01):73-78.
3. Nurlila RU, Fua JL, Meliana. Pengaruh pendidikan kesehatan terhadap pengetahuan tentang kesehatan gigi pada siswa di SD Kartika XX-10 Kota Kendari tahun 2015. Jurnal Al-Ta'dib. 2018;9(1):94-119.
4. Suratri MA, Sintawati F, Andayasari I. Pengetahuan, sikap, dan perilaku orang tua tentang kesehatan gigi dan mulut pada anak usia taman kanak-kanak di Provinsi Daerah Istimewa Yogyakarta dan Provinsi Banten tahun 2014. Media Litbangkes. 2016;26(2):199-126.
5. Azwar S. Sikap Manusia teori dan pengukurannya. Jakarta: Pustaka Pelajar. 2016.
6. Hestieyonini H, Kiswaluyo, Widi R, Meilawaty Z. Perilaku menjaga kesehatan gigi dan mulut pada santri Pondok Pesantren Al-Azhar Jember. Stomatognatic J. K. G Unej. 2013;10(1):17-20.
7. Suprihatiningrum J. Strategi pembelajaran : teori dan aplikasi. Yogyakarta: Ar – Ruzz Media; 2014.
8. Hasanah U. Pengaruh model pembelajaran kooperatif tipe jigsaw terhadap motivasi belajar siswa. Pedagogy. 2015;03(01):45-48.
9. Trianingsih R. Pengantar praktik mendidik anak usia sekolah dasar. Journal Al Ibtida. 2016;3(2):197-211.
10. Rosyidah. Pengaruh model pembelajaran kooperatif tipe jigsaw terhadap hasil belajar matematika siswa kelas VIII SMP Negeri 6 Metro. Jurnal Susunan Artikel Pendidikan. 2016;1(2):115-124.
11. Nisa K, Thamrin AG, Agustin RS. perbandingan model pembelajaran kooperatif tipe jigsaw dengan model konvensional terhadap hasil belajar siswa pada mata pelajaran ilmu bahan bangunan kelas X teknik gambar bangunan SMK Negeri 4 Sukoharjo. Indonesian Journal of Civil Enginering Education. 2018;4(1):67-78.
12. Ibrahim. perpaduan model pembelajaran aktif konvensional (ceramah) dengan cooperatif (make–a match) untuk meningkatkan hasil belajar pendidikan kewarganegaraan. Suara Guru: Jurnal Ilmu Pendidikan Sosial, sains, dan Humaniora. 2017;3(2):199-211.
13. Rahtyanti GCS, Hadnyanawati H, Wulandari E. Hubungan pengetahuan kesehatan gigi dan mulut dengan karies gigi pada mahasiswa baru Fakultas Kedokteran Gigi Universitas Jember tahun akademik 2016/2017. E-Jurnal Pustaka Kesehatan. 2018;6(1): 167-171.
14. Ibda F. Perkembangan kognitif: teori Jean Piaget. Jurnal Intelektualita. 2015;3(1):27-38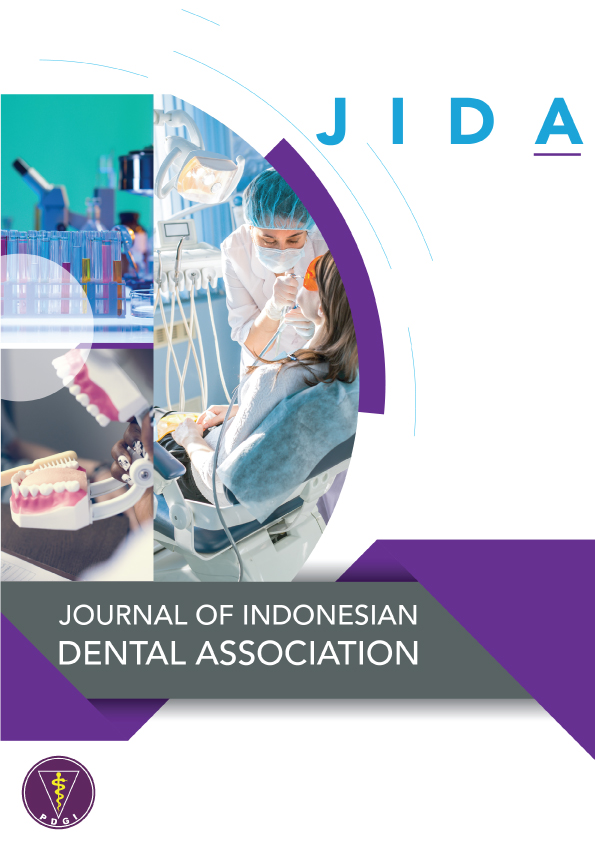 This work is licensed under a Creative Commons Attribution-NonCommercial 4.0 International License.