Focus and Scope
Jurnal Radiologi Dentomaksilofasial Indonesia (JRDI) is an official open access scientific publication published by Ikatan Radiologi Kedokteran Gigi Indonesia (IKARGI) / Indonesian Association of Dentomaxillofacial Radiology, under the supervision of Persatuan Dokter Gigi Indonesia (PDGI) / Indonesian Dental Association. Published thrice a year, every April, August, and December. The submission process opens throughout the year.
JRDI is designated as a publication platform of scientific knowledge, mainly publishing research articles, case reports, literature reviews and accepting any other kind of evidence-based submissions: systematic reviews, meta-analysis, etc. JRDI receives manuscripts particularly in the area of Dentomaxillofacial Radiology, such as oral and maxillofacial radiology, radiograph interpretation and techniques, radiopathology, radioanatomy, digital radiography, technologies and modalities in radiology, teledentistry, radiation effect and protection.
JRDI has been indexed and abstracted in Crossref, GoogleScholar, Mendeley, BASE (Bielefeld Academic Search Engine), Indonesia OneSearch by Perpusnas, Scilit, GARUDA, Dimensions, PKP Index, OCLC WorldCat, Open Access Library (OALib), ResearchBib, ICI World of Journals by Index Copernicus, Cite Factor and in progress to be indexed in DOAJ, EBSCO and other indexing partners. JRDI has also been integrated with ORCiD and each article has an active DOI.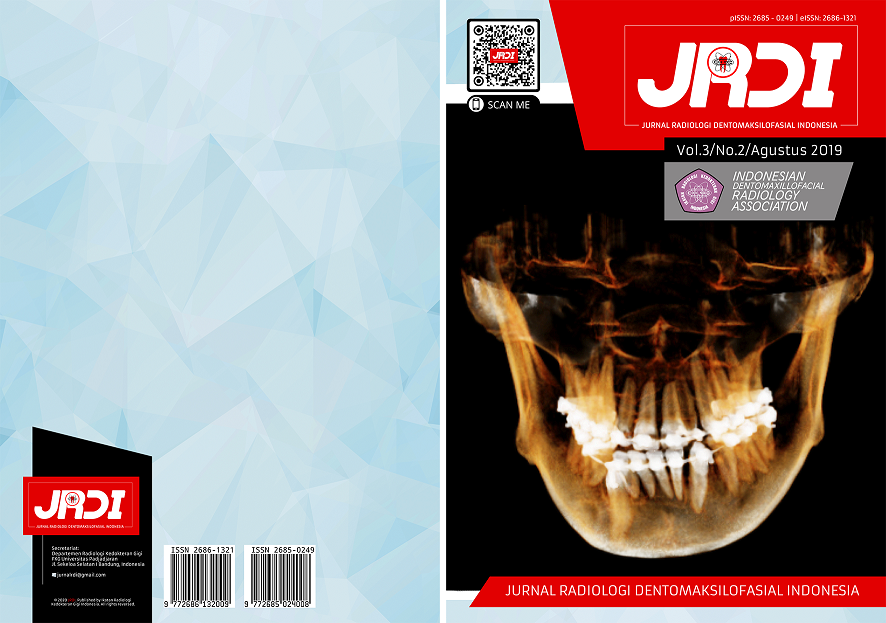 Section Policies
Articles
| | | |
| --- | --- | --- |
| Open Submissions | Indexed | Peer Reviewed |
Peer Review Process
All manuscripts received will be peer-reviewed by at least one reviewer within the framework of a double-blind policy (See
Review Guidelines
). The final decision on the acceptability, or otherwise, of manuscripts will be taken by the editor-in-chief based on reviewers' comments presented during an editorial board meeting. Scanning for instances of plagiarism present in manuscripts will be conducted by means of iThenticate or Turnitin software (See
Plagiarism Policy
).
Publication Frequency
Our journal is published thrice a year (April, August, December).
Open Access Policy
All articles published in
JRDI
are fully open access: immediately freely available to read, download and share, on the principle that making it freely available to the public supports a greater global exchange of knowledge as a fundamental part of our mission and a public benefit to be encouraged wherever possible. Articles in
JRDI
are published under the terms of a Creative Commons license (See
Copyright Policy
) which permits use, distribution and reproduction in any medium, provided the original work is properly cited.
Copyright Policy
To publish an article and make it available, we need publishing rights from the authors for their work. We therefore ask authors to sign an author contract which grants us the necessary publishing rights (See
Copyright Transfer
). This form can be submitted along with the manuscript and will be processed after your manuscript has been through the peer-review process, been accepted and moves into production. However, Copyright in any Open Access article published under a Creative Commons license, as also adapted in
JRDI
, is retained by the author(s). In this case, authors only grant
JRDI
a license to publish the article and identify itself as the original publisher.
In submitting a manuscript to a JRDI, an author represents that all included materials are the author's own work unless clearly otherwise identified. To avoid any potential issues with plagiarism or copyright infringement (i.e., representing someone else's work or ideas as one's own, violating the exclusive copyright rights of another) or any other violation of the rights of other parties (including, but not limited to, personal rights, an expectation of privacy, or other confidentiality requirement), authors should clearly identify any third-party materials and their respective rights holders in their submissions. The author shall additionally ensure that any needed permissions are provided with their accepted article.
Authors who publish with this journal agree to the following terms:
Authors retain copyright and grant the journal right of first publication with the work simultaneously licensed under a Creative Commons Attribution License Attribution-NonCommercial-NoDerivatives 4.0 International (CC BY-NC-ND 4.0) that allows others to share the work with an acknowledgment of the work's authorship and initial publication in this journal.
Authors are able to enter into separate, additional contractual arrangements for the non-exclusive distribution of the journal's published version of the work (e.g., post it to an institutional repository or publish it in a book), with an acknowledgment of its initial publication in this journal.
Authors are permitted and encouraged to post their work online (e.g., in institutional repositories or on their website) prior to and during the submission process, as it can lead to productive exchanges, as well as earlier and greater citation of published work (See The Effect of Open Access).