A suspect of large dentigerous cyst associated with impacted canine evaluated by CBCT: a case report in a young patient
Galih Rahmadini

Faculty of Dentistry, Universitas Padjadjaran, Bandung, Indonesia, 40132

Fahri Reza Ramadhan

Faculty of Dentistry, Universitas Padjadjaran, Bandung, Indonesia, 40132

Aga Satria Nurrachman

Department of Oral and Maxillofacial Radiology, Faculty of Dental Medicine, Universitas Airlangga, Surabaya, Indonesia, 60132

http://orcid.org/0000-0003-3788-8499

Farina Pramanik

Department of Dentomaxillofacial Radiology, Faculty of Dentistry, Universitas Padjadjaran, Bandung, Indonesia, 40132

http://orcid.org/0000-0003-4590-4751
Abstract
Objectives: This case report aims to describe a large radiolucent lesion associated with an impacted canine in a young patient from CBCT radiographs.
Case Report:  A 12-year-old boy was referred for CBCT examination to the Dentomaxillofacial Radiology unit at the Universitas Padjadjaran Dental Hospital with swelling on the right side of the face and a gingival lump on the upper right region suspected as an unerupted canine. The CBCT examination results showed an ectopic impacted tooth 13 and a large hypodense/radiolucent lesion with a well-defined and corticated border located on the coronal of tooth 13, expanding into the maxillary sinus and nasal cavity.
Conclusion: Based on the CBCT result in terms of location and radiographic features, this extensive radiolucent lesion led to a suspect radiodiagnosis of the dentigerous cyst within a young patient. However, histology examination is still required to establish a definitive diagnosis.
References
Vinereanu A, Bratu A, Didilescu A, Munteanu A. Management of large inflammatory dentigerous cysts adapted to the general condition of the patient: Two case reports. Exp Ther Med. 2021 May 12;22(1):750.
Thompson LDR. Dentigerous cyst [Internet]. Woodland Hills,California; 2018. Available from: www.entjournal.com
Bhardwaj B, Sharma S, Chitlangia P, Agarwal P, Bhamboo A, Rastogi K. Mandibular Dentigerous Cyst in a 10-Year-Old Child. Int J Clin Pediatr Dent. 2016;9(3):281–4.
Mckinney SL, Lukes SM. Dentigerous cyst in a young child: a case report. Vol. 55, Can J Dent Hyg. 2021.
Hutomo FR, Pratiwi ES, Kalanjati VP, Rizqiawan A. Case report: Dentigerous Cyst and Canine Impaction at the Orbital Floor. Folia Medica Indonesiana. 2019 Oct 3;55(3):234.
Mhsake S. Text Book of Oral Pathology : Chapter 16. Cysts of the orofacial region. Vol. 1. india; 2015. 323–329 p.
Jones J, Gaillard F. Dentigerous cyst. In: Radiopaedia.org. Radiopaedia.org; 2008.
Weiss R, Read-Fuller A. Cone Beam Computed Tomography in Oral and Maxillofacial Surgery: An Evidence-Based Review. Dent J (Basel). 2019 May 2;7(2).
M Shetty R, Dixit U. Dentigerous Cyst of Inflammatory Origin. Int J Clin Pediatr Dent. 2010;3(3):195–8.
Arjona-Amo M, Serrera-Figallo MA, Hernández-Guisado JM, Gutiérrez-Pérez JL, Torres-Lagares D. Conservative management of dentigerous cysts in children. J Clin Exp Dent. 2015 Dec;7(5):e671-4.
Thambi N, Anjana G, Sunil EA, Manjooran T, Nair A, Jaleel D. Nidhu Thambi et al Inflamed Dentigerous Cyst: A Case Report and Review 1. Review Oral Maxillofac Pathol J. 2016;7(2):744–7.
Borghesi A, Nardi C, Giannitto C, Tironi A, Maroldi R, di Bartolomeo F, et al. Odontogenic keratocyst: imaging features of a benign lesion with an aggressive behaviour. Insights Imaging. 2018 Oct;9(5):883–97.
Kumar R, Singh R, Pandey R, Mohammad S, Ram H. Inflammatory dentigerous cyst in a ten-year-old child. Natl J Maxillofac Surg. 2012;3(1):80.
Kaczor-Urbanowicz K, Zadurska M, Czochrowska E. Impacted Teeth: An Interdisciplinary Perspective. Advances in Clinical and Experimental Medicine. 2016;25(3):575–85.
Onay O, Suslu AE, Yilmaz T. Huge Dentigerous Cyst in the Maxillary Sinus: A Rare Case in Childhood. Turk Arch Otorhinolaryngol. 2019 May 10;57(1):54–6.
White SC, Pharoah MJ. White and Pharoah's Oral Radiology. Edisi 7. Misouri, Canada; Elsevier Mosby: 2014. p.338.
Monika APW, Renwi Astuti E, Mulyani WM. The quality of the lollipops use in the making of the anterior upper teeth periapical radiography of in paediatric patients. EurAsian Journal of BioSciences Eurasia J Biosci. 2020;14:4049-53.
Hamada Y, Timothius CJC, Shin D, John V. Canine impaction – A review of the prevalence, etiology, diagnosis and treatment. Seminars in Orthodontics. 2019;25(2):117-23.
Cruz RM. Orthodontic traction of impacted canines: Concepts and clinical application. Dental Press J Orthod. 2019 Jan-Feb;24(1):74-87.
Ghandour L, Bahmad HF, Bou-Assi S. Conservative Treatment of Dentigerous Cyst by Marsupialization in a Young Female Patient: A Case Report and Review of the Literature. Case Rep Dent. 2018 Jun 28;2018:7621363.
Ahmed J, Nath M, Sujir N, Ongole R, Shenoy N. Correlation of Pericoronal Radiolucency Around Impacted Mandibular Third Molars Using CBCT with Histopathological Diagnosis: A Prospective Study. The Open Dent Journal. 2022;16(Suppl 4, M3): e187421062111121.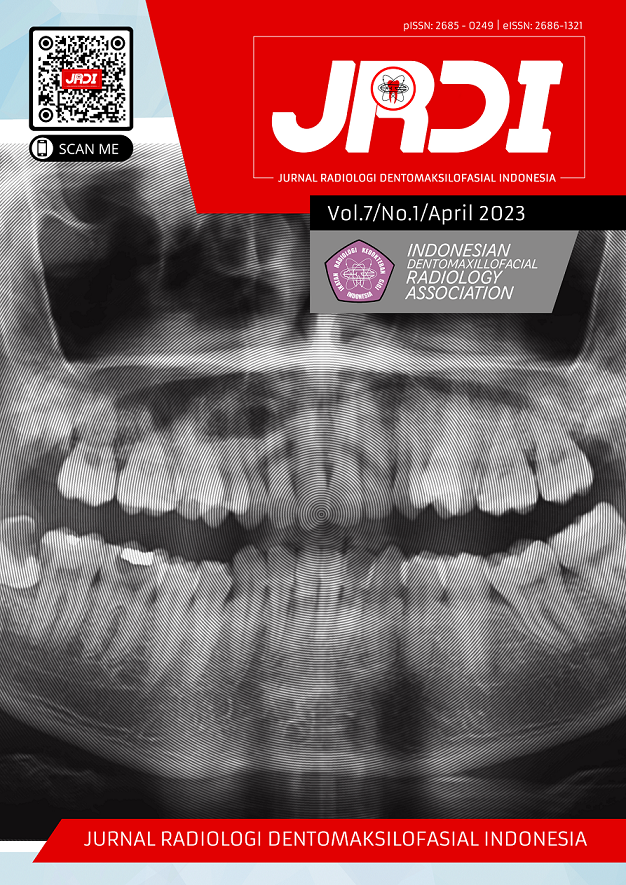 This work is licensed under a Creative Commons Attribution-NonCommercial-NoDerivatives 4.0 International License.