Gambaran border dan periosteal reaction lesi rahang pada radiograf
Aga Satria Nurrachman

Fakultas Kedokteran Gigi, Universitas Padjadjaran, Bandung, Indonesia, 40132

http://orcid.org/0000-0003-3788-8499

Farina Pramanik

Departemen Radiologi Kedokteran Gigi, Fakultas Kedokteran Gigi, Universitas Padjadjaran, Bandung, Indonesia, 40132

Azhari Azhari

Departemen Radiologi Kedokteran Gigi, Fakultas Kedokteran Gigi, Universitas Padjadjaran, Bandung, Indonesia, 40132

Lusi Epsilawati

Departemen Radiologi Kedokteran Gigi, Fakultas Kedokteran Gigi, Universitas Padjadjaran, Bandung, Indonesia, 40132

http://orcid.org/0000-0002-3221-747X
Abstract
Objectives: Understanding the differences of general signs and typical characteristics of a lesion in radiograph is constantly important for dentists to determine the nature of a lesion. Some signs that can be observed more specifically were the presence of periosteal reaction and the border of existing lesions. These differences may be taken into consideration to define the diagnosis and type of the lesion. The purpose of this article is to provide an overview of the radiographic features of periosteal reaction and border in jaw lesions.
Literature Review: This article is a literature review which discussed several articles relating to the radiographic features of border and periosteal reaction in various jaw lesions. Based on this review, there were different features of border, where each lesion had its own borderline that differs between cystic, benign and malignant properties. While the picture of periosteal reaction indicates the extent to which the lesion involves cortical tissue in the bone.   
Conclusion: The conclusion is that the border image and periosteal reaction can be one of the typical markers in determining jaw lesions.
 
References
Neyaz Z, Gadiodia A, Gamanagatti S, Mukhopadhyay S. Radiographical approach to jaw lesions. Singapore Med J. 2008;49(2):165–77.
Bodner L, Sion-Vardy N, Geffen DB, Nash M. Metastatic tumors to the jaws: a report of eight new cases. Med oral, Patol oral y cirugía bucal. 2006;11(2):132–5.
Epsilawati L, Firman R, Pramanik F, Ambarlita Y. Gambaran radiograf dari lesi keganasan maksilofasial: (literature review). Makassar Dent J. 2018;7(2):88–94.
Koong B. The basic principles of radiological interpretation. Aust Dent J. 2012;57:33–9.
White S, Pharoah M. Oral Radiology: Principles and Interpretation 7th Edition. Missouri: Elsevier Inc; 2014.
Phore S, Panchal R, Baghla P, Nabi N. Dental radiographic signs. Indian J Heal Sci [Internet]. 2015;8(2):85. Available from: http://www.ijournalhs.org/text.asp?2015/8/2/85/174234
Dunfee BL, Sakai O, Pistey R, Gohel A. Radiologic and Pathologic Characteristics of Benign and Malignant Lesions of the Mandible. Radiographics [Internet]. 2006;26(6):1751–68. Available from: http://www.sciencedirect.com/science/article/B6TYJ-48B0STW-1T/2/8437099886586f6d3ae6a9179bdd31cf
Paul LW, Juhl JH. Paul and Juhl's Essentials of Radiologic Imaging. USA: Lippincott Williams & Wilkins Publishers; 1998. 1408 p.
Barlas NB, Narkhede PN, Wilkinson M, Bilal A. Periosteal Reaction : A radiographic guide to disease process. In: European Society of Radiology. 2013. p. 1–21.
Chen EM, Masih S, Chow K, Matcuk G, Patel D. Periosteal Reaction : Review of Various Patterns Associated With Specific Pathology. Contemp Diagnostic Radiol. 2012;35(17):1–6.
Nichols RE, Dixon LB. Radiographic Analysis of Solitary Bone Lesions. Radiol Clin North Am [Internet]. 2011;49(6):1095–114. Available from: http://dx.doi.org/10.1016/j.rcl.2011.07.012
Rana RS, Wu JS, Eisenberg RL. Periosteal Reaction. Am J Roentgenol [Internet]. 2009 Oct;193(4):W259–72. Available from: http://www.ajronline.org/doi/10.2214/AJR.09.3300
Ragsdale B, Madewell J, Sweet D. Radiologic and pathologic analysis of solitary bone lesions. Part II: Periosteal reactions. Radiol Clin North Am. 1981;19:749–83.
White SM. Malignant Lesions in the Dentomaxillofacial Complex. Radiol Clin North Am [Internet]. 2017;56(1):63–76. Available from: https://doi.org/10.1016/j.rcl.2017.08.005
Hidayah AN. Prevalensi Kista Odontogenik Rongga Mulut di Rumah Sakit Ibnu Sina dan Rumah Sakit Sayang Rakyat Periode Tahun 2011-2015. Universitas Hasanuddin; 2016.
Koenig LJ, Tamimi D, Petrikowski C, Perschbacher S, Ruprecht A, Hatcher D, et al. Diagnostic Imaging: Oral and Maxillofacial 2nd Edition. Philadelphia: Elsevier Inc; 2017.
Sreedharan S, Govinda BS, Krishnan IS, Krishna KK. Mis- or Missed Diagnosis: A Series of Four Cases. Case Rep Dent [Internet]. 2012;2012(d):1–5. Available from: http://www.hindawi.com/journals/crid/2012/946327/
Ida M, Tetsumura A, Kurabayashi T, Sasaki T. Periosteal new bone formation in the jaws. A computed tomographic study. Dentomaxillofac Radiol. 1997;26(3):169–76.
Davies AM, Pettersson H. The WHO manual of diagnostic imaging: Radiographic Anatomy and Interpretation of the Musculoskeletal System. Ostensen H, Pettersson H, editors. Malta: World Health Organization & International Society of Radiology; 2002. 172 p.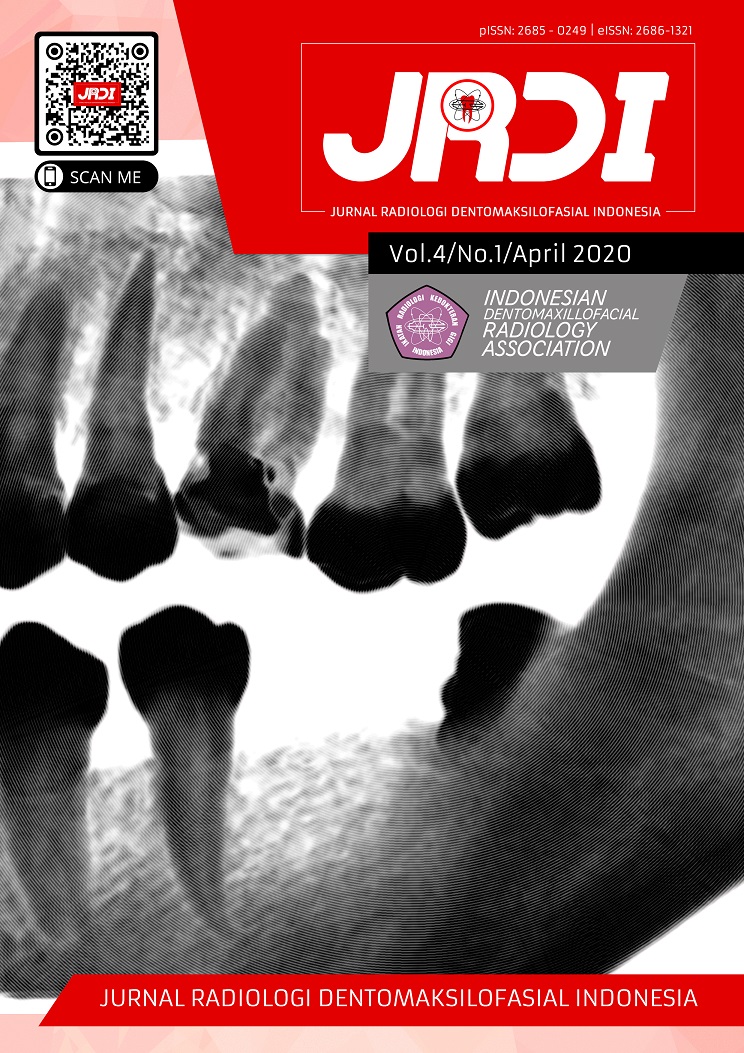 This work is licensed under a Creative Commons Attribution-NonCommercial-NoDerivatives 4.0 International License.