Bentuk dan posisi kondilus sebagai marker pada Temporomandibular Disorder (TMD) melalui radiografi panoramik
Khamila Gayatri Anjani

Fakultas Kedokteran Gigi, Universitas Padjadjaran, Bandung, Indonesia, 40132

Aga Satria Nurrachman

Fakultas Kedokteran Gigi, Universitas Padjadjaran, Bandung, Indonesia, 40132

http://orcid.org/0000-0003-3788-8499

Fadhlil Ulum Abdul Rahman

Fakultas Kedokteran Gigi, Universitas Padjadjaran, Bandung, Indonesia, 40132

Ria Noerianingsih Firman

Departemen Radiologi Kedokteran Gigi, Fakultas Kedokteran Gigi, Universitas Padjadjaran, Bandung, Indonesia, 40132
Abstract
Objectives: The purpose of writing this literature review is to describe the condyle shape and position parameters in panoramic radiographs to be used as markers in diagnosing a TMD case.
Literature Review: There are several classifications of both normal and pathological condyles in terms of panoramic radiographs, however these require more detailed observation. Panoramic radiographs that are only two-dimentional and only performed when the teeth are biting edge to edge so that they only show the position of the condyle movement and the shape of the condyle from the lateral view. Panoramic radiograph also have limitations in imaging soft tissues such as articular disc which are vital anatomy in analyzing a TMD case.
Conclusion: Assessment of the shape and position of the condyles on a panoramic radiograph can be used as an early diagnosis of TMD. 2-dimensional modalities such as TMJ conventional lateral and frontal or 3-dimensional modalities such as CBCT or CT can be used for further assessment of a TMD case, while MRI or ultrasound can be used for soft tissue abnormalities.
References
Ramadhan R, Pramanik F, Epsilawati L. Digital panoramic radiograph of the condyle head shape in clicking and non-clicking patients. Padjadjaran J Dent Res Students. 2019;3(2):134.
Praveen BN SH. Morphological and Radiological Variations of Mandibular Condyles in Health and Diseases: A Systematic Review. Dentistry. 2013;03(01):1–5.
Crow HC, Parks E, Campbell JH, Stucki DS, Daggy J. The utility of panoramic radiography in temporomandibular joint assessment. Dentomaxillofacial Radiol. 2005;34:91–5.
Navi F, Kalantar Motamedi MH, Taheri Talesh K, Lasemi E, Nematollahi Z. Diagnosis and Management of Temporomandibular Disorders. A Textb Adv Oral Maxillofac Surg. 2013;3(May 2014).
Stuart C. White MJP. Oral Radiology Princples and Interpretation. 2014. 696\697.
Md Anisuzzaman M, Khan SR, Khan MTI, Abdullah MK, Afrin A. Evaluation of Mandibular Condylar Morphology By Orthopantomogram In Bangladeshi Population. Updat Dent Coll J. 2019;9(1):29–31.
Oliveira C, Lúcia A, Capelozza Á. Mandibular condyle morphology on panoramic radiographs of asymptomatic temporomandibular joints. IJD Int J Dent. 2009;8(3):114–8.
Im YG, Lee JS, Park J Il, Lim HS, Kim BG, Kim JH. Diagnostic accuracy and reliability of panoramic temporomandibular joint (TMJ) radiography to detect bony lesions in patients with TMJ osteoarthritis. J Dent Sci [Internet]. 2018;13(4):396–404. Available from: https://doi.org/10.1016/j.jds.2018.08.006
Koyama JI, Nishiyama H, Hayashi T. Follow-up study of condylar bony changes using helical computed tomography in patients with temporomandibular disorder. Dentomaxillofacial Radiol. 2007;36(8):472–7.
Sonal V, Sandeep P, Kapil G, Christine R. Evaluation of condylar morphology using panoramic radiography. J Adv Clin Res Insights. 2016;3:5–8.
Ginting R, Napitupulu FMN. Gejala klinis dan faktor penyebab kelainan temporomandibular joint pada kelas I oklusi angle. J Kedokt Gigi Univ Padjadjaran. 2019;31(2).
Nasution dhea lisa. Kelainan pada Temporomandibular Joint (TMJ). Stomatognatic J Kedokt Gigi Univ Jember. 2011;8(2):76–85.
Ikeda K, Kawamura A. Disc displacement and changes in condylar position. Dentomaxillofacial Radiol. 2013;42(3):11–7.
Ning, Novyan Abraham. Syamsudin EF. Study Kasus Penatalaksanaan dislokasi sendi temporomandibula anterior bilateral. Dent J (Majalah Kedokt Gigi). 2012;2(1):120–5.
Laplanche O, Ehrmann E, Pedeutour P, Duminil G. TMD clinical diagnostic classification (Temporo Mandibular Disorders). J Dentofac Anomalies Orthod. 2012;15(2):202.
Liu F, Steinkeler A. Epidemiology, diagnosis, and treatment of temporomandibular disorders. Dent Clin North Am [Internet]. 2013;57(3):465–79. Available from: http://dx.doi.org/10.1016/j.cden.2013.04.006
Lestari S. Analisis informasi fisis radiograf panoramik digital untuk deteksi tumor jinak pada rahang. J Teknol Inf. 2015;10(30):1–8.
Heribertus Dedy Kusuma Yulianto dan Morita. Edisi Cetak Dentika Dental Journal , Desember 2014 ( ISSN : 1693-671X ) Edisi Cetak Dentika Dental Journal , Desember 2014 ( ISSN : 1693-671X ). Dentika Dent J. 2014;18(2):190–3.
Talmaceanu D, Lenghel LM, Bolog N, Hedesiu M, Buduru S, Rotar H, et al. Imaging modalities for temporomandibular joint disorders: An update. Clujul Med. 2018;91(3):280–7.
Al-Saleh MAQ, Alsufyani NA, Saltaji H, Jaremko JL, Major PW. MRI and CBCT image registration of temporomandibular joint: A systematic review. J Otolaryngol - Head Neck Surg [Internet]. 2016;45(1):1–7. Available from: http://dx.doi.org/10.1186/s40463-016-0144-4
Pramanik F, Firman RN, Sam B. Differences of temporomandibular joint condyle morphology with and without clicking using digital panoramic radiograph. Padjadjaran J Dent. 2016;28(3):159–64.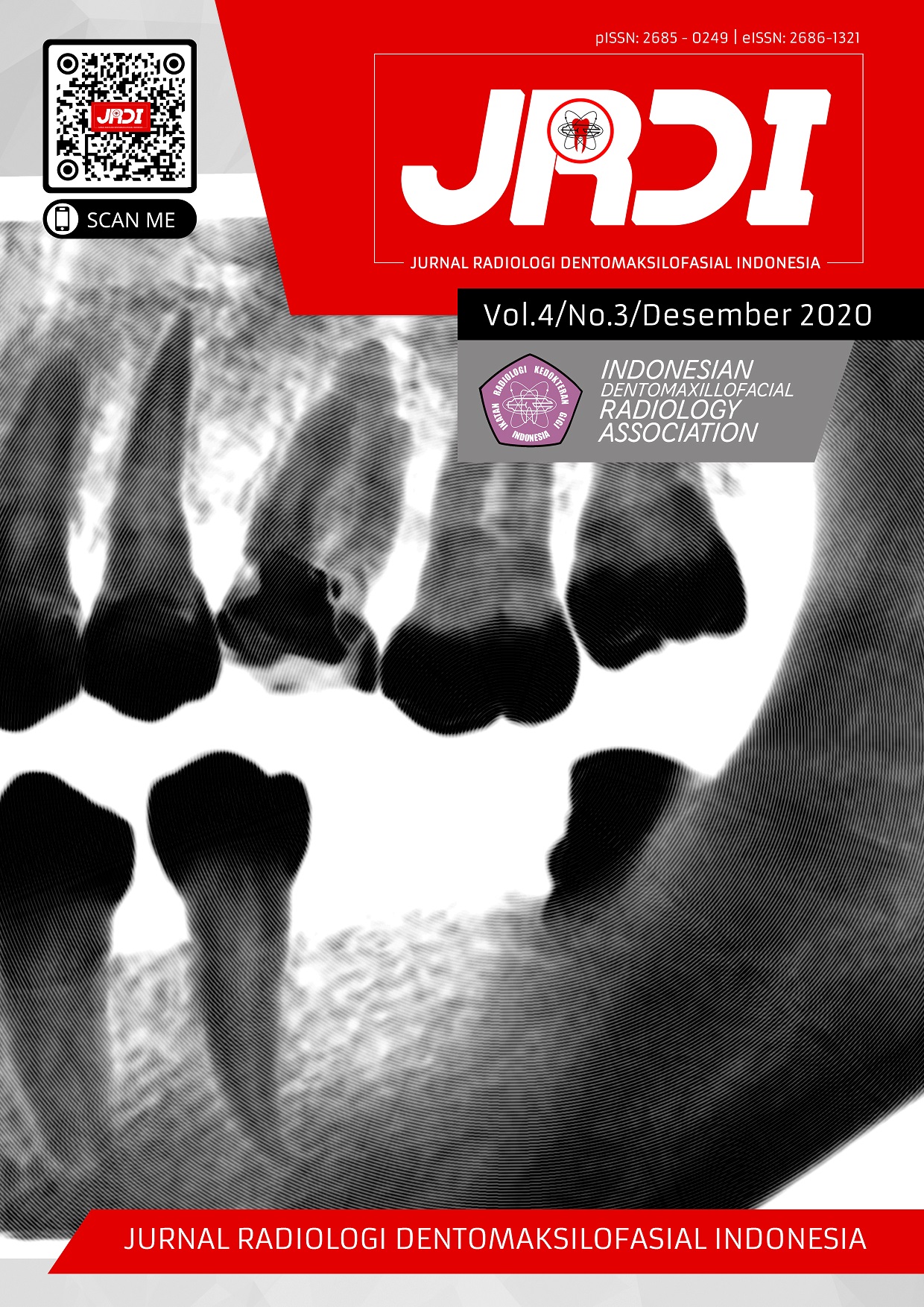 This work is licensed under a Creative Commons Attribution-NonCommercial-NoDerivatives 4.0 International License.