Analisis ketebalan kortikal, ukuran sudut dan kepadatan trabekula tulang mandibula prajurit dan non prajurit ditinjau dari radiograf panoramik
Indra Gunawan

Fakultas Kedokteran Gigi, Universitas Padjadjaran, Bandung, Indonesia, 40132

Suhardjo Sitam

Departemen Radiologi Kedokteran Gigi, Fakultas Kedokteran Gigi, Universitas Padjadjaran, Bandung, Indonesia, 40132

http://orcid.org/0000-0003-0315-4884

Azhari Azhari

Departemen Radiologi Kedokteran Gigi, Fakultas Kedokteran Gigi, Universitas Padjadjaran, Bandung, Indonesia, 40132

Krisnadi Setiawan

Lembaga Kedokteran Gigi TNI AL R.E Martadinata, Tentara Nasional Indonesia , Jakarta, Indonesia
Abstract
Objectives: To analyze the cortical thickness, angular size and density of the mandibular bone trabeculae of soldiers and non-soldiers in terms of panoramic radiographs
Material and Methods: This study is a comparative analytical descriptive study. The sample used was 65 panoramic radiographic data from soldiers and non-soldiers carried out at LADOKGI TNI AL R E Martadinata Jakarta.
Results: Significant differences (p-value <0.05) in the calculation of the MCW value (Mandibular Cortical Width) of male soldiers compared to non-male soldiers (p-value 0.047) and FD FM (Fractal Dimension region superior foramen mentale) values 40-58 years compared to non-soldiers aged 40-58 years (p-value 0.027).
Conclusion: There are differences in the size of the cortical thickness of the foramen mentale region (MCW) of the male group and in the value of the superior region of the mandibular foramen mentale (FD) region of the 40-58 years age group between soldiers and non-soldiers in terms of panoramic radiographs.
 
 
References
Peraturan Presiden (PERPRES) No. 107 Thn 2013. Tentang Pelayanan Kesehatan Tertentu Berkaitan Dengan Kegiatan Kegiatan Opersional Kementerian Pertahanan, Prajurit Nasional Indonesia, dan Kepolisian Negara Republik Indonesia. Kementrian Negara. 2013:3.
Profesionalisme TNI Dan Kesehatan Prajurit. Published TNI PMBTNI. 2007:1. diunduh pada web.Http://www.TNI.Mil.ld/View.
Karl E. Fried, Rachel K. Evans, Daniel S. Moran. Stress Fracture and Military Medical Readiness: Bridging Basic and Applied Research. American College of Sports Medicine. 2008.
Friedl. Biomedical Research on Health and Performance of Military Women: Accomplishments of the Defence Women's Health Research Program (Dwhrp). Womens Health (Larchmt) Journal. 2005 (14):764-802.
Lappe J, Davies K, Recker R, Heaney R. Quantitative Ultrasound: Use in Screening for Susceptibility to Stress Fractures in Female Army Recruits. Bone Miner Journal Res. 2005 (20) :571-578.
Poornima Govindraju, T. S. Mahesh Kumar, Poornima Chandra, P. Balaji, M. B. Sowbhagya. Panoramic Radiomorphometric Indices of Mandible: Biomarker for Osteoporosis. Springer Science and Business Media Dordrecht. 2015.
Lestari S. Hubungan Fraksi Area Trabekula Anterior Mandibula Dengan Kepadatan Tulang Lumbar Spine Untuk Deteksi Dini Osteoporosis. Majalah Kedokteran Gigi Indonesia Journal. 2017;3(1):43-50.
Mardiyah S, Ayu R, Sartika D. Gangguan Kepadatan Tulang Pada Orang Dewasa di Daerah Urban dan Rural. Jurnal Kesehatan Masyarakat Nasional. 2014;8:272-9.
Whaites E. Essential Dental Radiography and Radiology. 5 ed. Elsevier Spain. 2013
Ferreira T, Rasband Wayne. Image J User Guide. Image-J soft wear production. 2012.
Chrisna A M. Analisis Morfometri Rahang Pasien Normal, Osteopenia, Osteoporosis Wanita Postmenoupose Melalui Radiograf Panoramik. Tesis. 2020.
Jayashree A. Mudda, Monika Bajaj, Veena A. Patil. A Radiograph Comparison of Mandibular Bone Quality in Pre- and Post-Menopausal Women in Indian Population. Journal Of lndian Society of Periodontology. 2010; 14(2).
Dagistan, S. Bilge, O.M. Comparison of Antegonial Index, Mental Index, Panoramik Mandibular Index and Mandibular Cortical Index Values in The Panoramik Radiographs of Normal Males and Male Patients with Osteoporosis. Dentomaxillofacial Radiology Journal. 2010; 39 : 290-294.
Marci A. Goolsby, Nicole B. Bone Health in Athletes: The Role of Exercise, Nutrition, and Hormones. Sports Healthjournal. 2017; 9 (2).
Sejarah LADOKGI TNI AL R.E. Martadinata. LADOKGI. 2020. diunduh dari https://ladokgirem.com/sejarah.
Pacients list of Radiograph book. LADOKGI TNI AL R.E. Martadinata Tahun. LAGOKGI. 2019.
L.Vico. Physical Activity and Bone Quality. Medicographia,. 2010; 32(4).
Vasantha Dhara, Abhay T. Kamath, Ravindranath Vineetha. The Influence of Mandibular Gonial Angle on the Occurrence of Mandibular Angle Fracture. Dent Traumatol journal. 2019;35(3):188-193.
Shannon L. Mathis, Richard S. Farley, Dana K. Fuller, Amy E. Jetton, Jennifer L Caputo. The Relationship between Cortisol and Bone Mineral Density in Competitive Male Cyclists. Journal of Sports Medicine Volume 2013, Article ID 896821, p.7
Nidhi S Khadam. Prevalence of Osteoporosis in Apparently Healthy Adults above 40 Years of Age in Pune City, Indian Journal of Endocrinology and Metabolism. 2018; 22 (1).
Kato NAO, Camila, Sâmila G Barra, Núbia PK Tavares, Tânia MP Amaral, Cláudia B Brasileiro, et al. Use of fractal analysis in dental images: a scoping review. Dentomaxillofacial Radiology. 2019; 48
Kagaku Azuma, Yasuhiro Adachi, Haruki Hayashi, Kin-Ya Kubo. Chronic Psychological Stress as A Risk Factor of Osteoporosis. J Uoeh. 2015; 37 (4): 245 – 253.
Patricia M. Furlan, Tom Ten Have, Mark Cary, Babette Zemel, Felix Wehrli, Ira R. Katz, et al. The Role of Stress-Induced Cortisol in the Relationship between Depression and Decreased Bone Mineral Density. Biol Psychiatry Journal. 2005;57: 911-917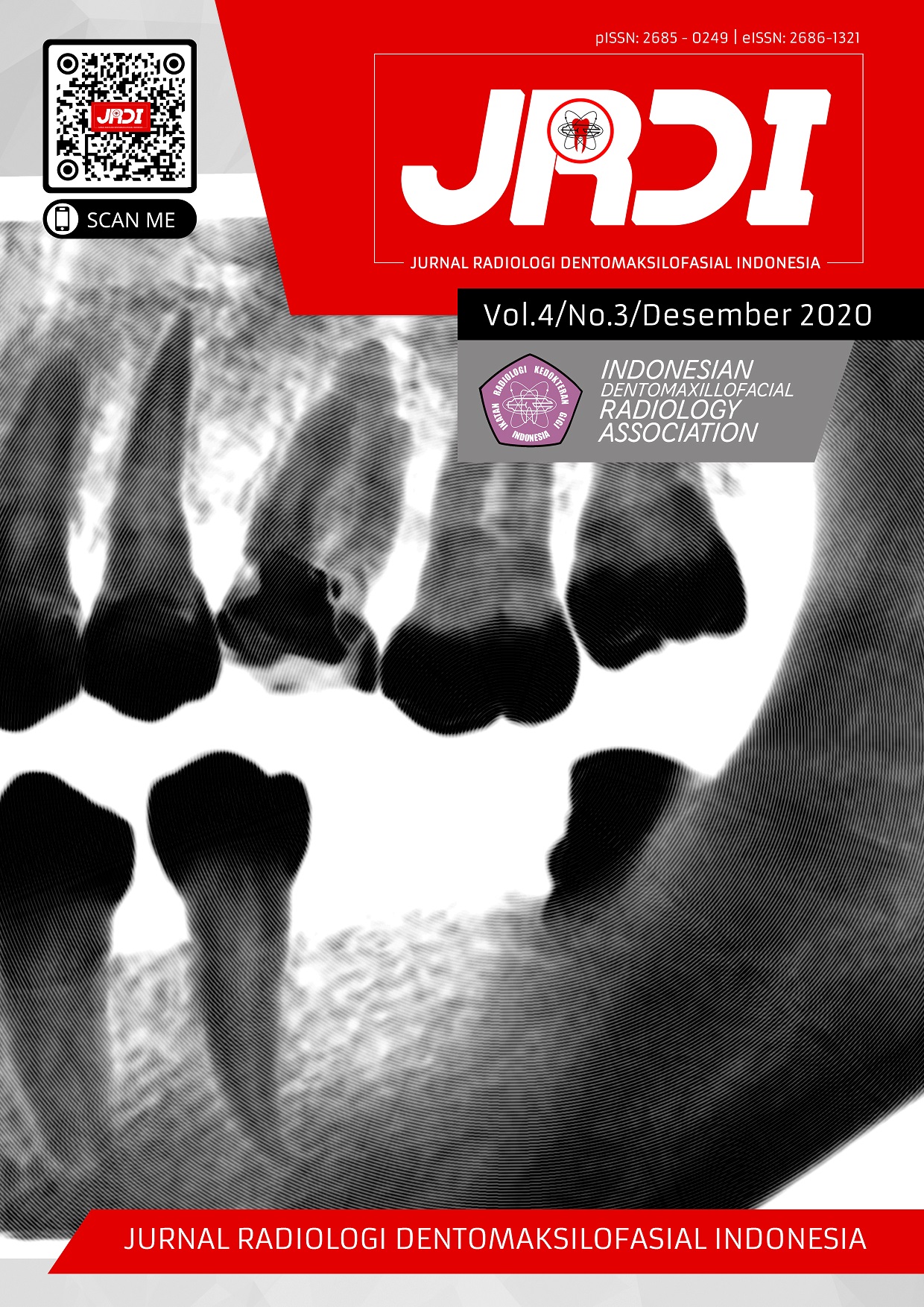 Section
Original Research Article
This work is licensed under a Creative Commons Attribution-NonCommercial-NoDerivatives 4.0 International License.