Multiple hypercementosis – a case report of an incidental finding on panoramic radiograph
Ichda Nabiela Amiria Asykarie

Faculty of Dentistry, Universitas Padjadjaran, Bandung, Indonesia, 40132

Fahri Reza Ramadhan

Faculty of Dentistry, Universitas Padjadjaran, Bandung, Indonesia, 40132

Ria Noerianingsih Firman

Department of Dentomaxillofacial Radiology, Faculty of Dentistry, Universitas Padjadjaran, Bandung, Indonesia, 40132
Abstract
Objectives: This case report is aimed to describe radiographic features of multiple hypercementosis in an incidental case.
Case Report: A 38-year-old man came to the Dental Hospital of Padjadjaran University with a complaint that he had lost some of his teeth and wanted to make dentures because he found it difficult to chew food. Then the patient was referred for a radiographic examination, the results of a panoramic radiograph found abnormalities in the form of thickening of the cementum at the apex of the remaining teeth. The teeth were in vital condition and there were no clinical signs.
Conclusion: Based on the examination results, it was concluded that the panoramic radiograph showed excessive cementum thickening and root enlargement on the remaining teeth. This case leads to a radiological diagnosis suspect of multiple hypercementosis or cementum hyperplasia.
References
Zhou J, Zhao YF, Xia CY, Jiang L. Periodontitis with hypercementosis: report of a case and discussion of possible aetiologic factors. Aust Dent J. 2012;57(4):511-4.
White SC, Pharoah MJ. Oral Radiology-E-Book: Principles and Interpretation. Elsevier Health Sciences; 2014.
Bürklein S, Jansen S, Schäfer E. Occurrence of hypercementosis in a German population. J Endod. 2012;38(12):1610-12.
Newman MG, Takei H, Klokkevold PR, Carranza FA. Carranza's Clinical Periodontology. Elsevier health sciences; 2011.
Warrier SA, Vinayachandran D. Irregular periapical radiopacity in mandibular premolars and molars. Case Rep Dent. 2014;2014:910843.
Xu L, Liu Y, Luo J, Jiang M, Guo W, Zheng G. Analysis of clinical and imaging findings in cementoblastoma. Hua xi kou qiang yi xue za zhi= Huaxi kouqiang yixue zazhi= West China J Stomatol. 2015;33(4):419-22.
d'Incau E, Couture C, Crépeau N, et al. Determination and validation of criteria to define hypercementosis in two medieval samples from France (Sains-en-Gohelle, AD 7th–17th century; Jau-Dignac-et-Loirac, AD 7th–8th century). Arch Oral Biol. 2015;60(2):293-303.
Mortazavi H, Parvaie P. Multiple hypercementosis: report of a rare presentation. J Dent Mater Tech. 2016;5(3):158-60.
Shah D, Sutaria SP, Shah S, Dave B. Idiopathic Generalized Hypercementosis: A Case Report.
Raghavan V, Singh C. Hypercementosis: review of literature and report of a case of mammoth, dumbbell-shaped hypercementosis. J Indian Acad Oral Med Radiol. 2015;27(1):160.
Shoor H, Sujir N, Mutalik S, Pai KM. Hypercementosis: a rare finding in a patient with systemic lupus erythematosus. Case Reports. 2014;2014:bcr2013202370.
Patil S, Yadav N. Generalized hypercementosis with multiple missing teeth in a young female: A rare case report. Int J Heal Allied Sci. 2015;4(3):178.
Nadeem Jeddy RT, Krithika C, Saravanan R. Localized multiple cemental excrescences: a rare presentation of hypercementosis. J Clin diagnostic Res JCDR. 2014;8(5):ZD16-7.
Madukwe I. Frequency of hypercementosis in 1254 extracted permanent human teeth: biological explanation and clinical implication. Rev J Dent Sci. 2017;5(1):39-41.
Noor N, Ahmed M, Jabeen N, Humayoun S. Endodontic treatment of premolar with unusual anatomy and hypercementosis — case report. Pakistan Oral Dental J. 2015;35(3):519-23.
Mattigatti S, Rairam S, Alurkar S, Kamble B. A clinicopathologic review with special emphasis on Hypercementosis vs cementoblastoma. UJMDS. 2014;2(04):140-1.
Butala PB, Patel PS. Generalized hypercementosis–A report of an incidental finding. IP Int J Maxillofac Imaging. 2020;4(1):36-8.
Elsayed S, Alolayan A, Farghal L, Ayed Y. Generalised hypercementosis in a young female seeking extraction: Revision and update of surgical technique. J Coll Physicians Surg Pak. 2019;29(11):1111-3.
Barros LAP, Pinheiro BC, Azeredo RA, Consolaro A, Pinheiro TN. Root apical third and canal morphology of teeth with hypercementosis. Dental Press Endod. 2013;3(3);23-31.
Nuvvula S, Manepalli S, Mohapatra A, Mallineni SK. Cementoblastoma relating to right mandibular second primary molar. Case Rep Dent. 2016;2016:22319890.
Gracea RS, Firman RN. Gambaran sementoblastoma tahap awal pada cone beam computed tomography (CBCT) 3D. J Radiol Dentomaksilofasial Indones. 2020;3(3):49-51.
Pinto ASB, Carvalho MS, de Farias ALC, et al. Hypercementosis: Diagnostic imaging by radiograph, cone-beam computed tomography, and magnetic resonance imaging. J Oral Maxillofac Radiol. 2017;5(3):90.
Urs AB, Singh H, Rawat G, Mohanty S, Ghosh S. Cementoblastoma solely involving maxillary primary teeth-a rare presentation. J Clin Pediatr Dent. 2016;40(2):147-51.
Geon P, Kulkarni A, Kashyap R, Kini R, Rao P, Bhandarkar G. The bulky Boulder roots: a case of hypercementosis. Medwin Publ. 2017;1(2):1-2.
Consolaro A, Consolaro RB, Francischone LA. Cementum, apical morphology and hypercementosis: a probable adaptive response of the periodontal support tissues and potential orthodontic implications. Dental Press J Orthod. 2012;17(1):21-30.
Cral WG, Silveira MQ, Rubira-Bullen IRF, Capelozza ALA. Incidental Findings in Pretreatment and Post-Treatment Orthodontic Panoramic Radiographs. Int J Radiol Radiat Ther. 2018;5(1):46-50.
El Achkar VNR, Lopes SLP de C, Pinto ASB, Do Prado RF, Kaminagakura E. Imaging aspects of palatal torus in cone beam computed tomography and magnetic resonance: case report. Acta Stomatol Croat. 2016;50(4):359-64.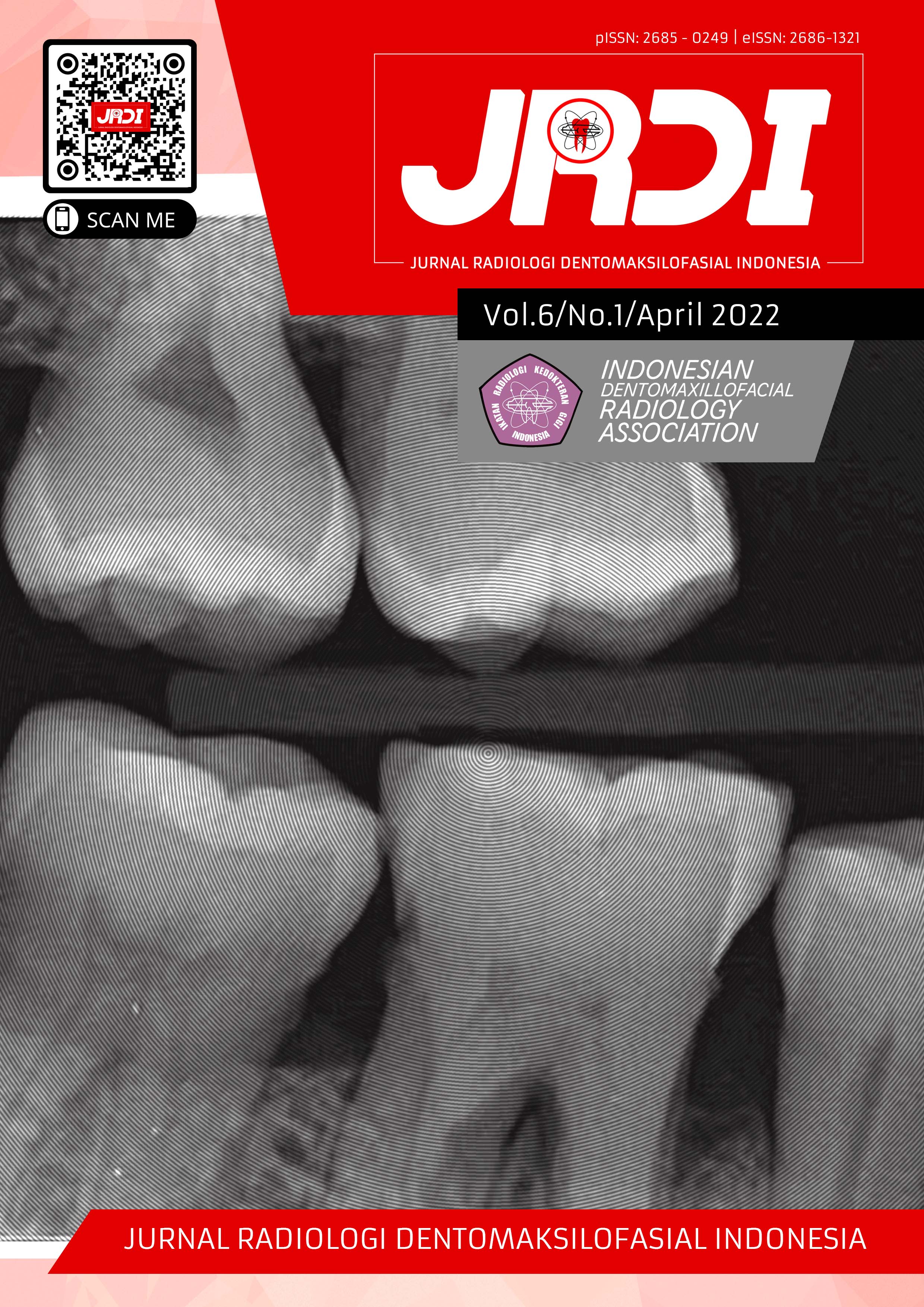 This work is licensed under a Creative Commons Attribution-NonCommercial-NoDerivatives 4.0 International License.