Crown root fracture imaging on Cone Beam Computed Tomography
Anak Agung Gde Dananjaya Agung

Department of Dentomaxillofacial Radiology, Dental Education Study Program, Faculty of Medicine, Universitas Udayana, Denpasar, Indonesia, 80361

Ni Ketut Ayu Lestarini

Dental Education Study Program, Faculty of Medicine, Universitas Udayana, Denpasar, Indonesia, 80361
Abstract
Objectives: This case report is aimed to describe the features of CBCT in assessing tooth fracture.
Case Report: A 50-year-old man came with complaints of discomfort in the right lower jaw area, especially when used for chewing. The results of the percussion test were positive. CBCT examination showed that there was a radiolucent image of the enamel in the middle of the crown root to the 1/3 apical of the mesial and distal roots of tooth 47 which resembled a fracture line. The fracture line also appears to have reached the pulp. In addition, there is a well-defined radiolucent appearance with an irregular shape along the root from the buccal to lingual alveolar crest and accompanied by a decrease in the alveolar crest. The fracture that occurred in this case was from the enamel to the apical and involved the pulp, thus the radiodiagnosis on tooth 47 was a complicated crown root fracture with lateral periodontal cyst.
Conclusion: CBCT can be used to help identify tooth fractures by obtaining a more accurate and useful value in differentiating conditions associated with fractures. CBCT provides data on the size and length of the fracture line and the size of the lesion.
References
Farani W, Nurunnisa W. Distribusi frekuensi fraktur gigi permanen di rumah sakit gigi dan mulut universitas muhammadiyah yogyakarta. Insisiva Dent J Maj Kedokt Gigi Insisiva. 2018;7(1):28–36.
Septahapsari AI, Sutadi H, Fauziah E. Distribusi frekuensi trauma gigi permanen anterior pada anak usia 8-12 tahun. Skripsi. Jakarta: Universitas Indonesia, 2014.
Enabulele JE, Mohammed BE. Socio-demographic distribution of adult patients who seek oral health treatment following trauma to anterior teeth. J Trauma Care. 2017;3(1):1017.
White SC, Pharoah MJ. Oral radiology principles and interpretation. 7th ed. St. Louis Missouri: Elsevier; 2014. p.347, 566.
Soeprapto A. Pedoman dan tatalaksana praktik kedokteran gigi. STPI Bina Insan Mulia; 2017. p.97.
Long H, Zhou Y, Ye N, Liao L, Jian F, Wang Y, et al. Diagnostic accuracy of CBCT for tooth fractures: A meta-analysis. J Dent [Internet]. 2014;42(3):240–8.
Ferreira LM, Visconti MAPG, Nascimento HA, Dallemolle RR, Ambrosano GM, Freitas DQ. Influence of CBCT enhancement filters on diagnosis of vertical root fractures: A simulation study in endodontically treated teeth with and without intracanal posts. Dentomaxillofacial Radiol. 2015;44(5):2–7.
Hekmatian E, Karbasi Kheir M, Fathollahzade H, Sheikhi M. Detection of vertical root fractures using cone-beam computed tomography in the presence and absence of gutta-percha. Sci World J. 2018;2018:1–6.
Doğan MS, Callea M, Kusdhany LS, Aras A, Maharani DA, Mandasari M, et al. The evaluation of root fracture with cone beam computed tomography (CBCT): An epidemiological study. J Clin Exp Dent. 2018;10(1):e41–8.
Haryuni RF, Fauziah E. Penatalaksanaan fraktur Ellis kelas II gigi 11 , 21 pada anak usia 9 tahun. J Indones Dent Assoc. 2018;1(1):10–6.
Azami-Aghdash S, Azar FE, Azar FP, Rezapour A, Moradi-Joo M, Moosavi A, et al. Prevalence, etiology, and types of dental trauma in children and adolescents: systematic review and meta-analysis. Med J Islam Repub Iran. 2015;29(4):234.
Rivera EM, Walton RE. Longitudinal tooth cracks and fractures: an update and review. Endod Top. 2015;33(1):14–42.
Brady E, Mannocci F, Brown J, Wilson R, Patel S. A comparison of cone beam computed tomography and periapical radiography for the detection of vertical root fractures in nonendodontically treated teeth. Int Endod J. 2014;47(8):735–46.
Fidel SR, Fidel-Junior RA, Sassone LM, Murad CF, Fidel RA. Clinical management of a complicated crown-root fracture: a case report. Braz Dent J. 2011;22(3):258-62.
Kovács M, Pãcurar M, Petcu B, Bukhari C. Prevalence of traumatic dental injuries in children who attended two dental clinics in Târgu Mure between 2003 and 2011. OHDM. 2012;11(3):116–24.
Yadav M, Kaushik M, Sharma R, Chowdry P. Minimal Invasive Surgical Approach in The management of comminuted crown-root fracture- a Case Report. J West African Coll Surg [Internet]. 2017;7(4):128–40.
Kulkarni V, Sharma D, Banda N, Solanki M, Khandelwal V, Airen P. Clinical management of a complicated crown-root fracture using autogenous tooth fragment: A biological restorative approach. Contemp Clin Dent. 2013;4(1):84–7.
Kulkarni VK, Sridhar R, Duddu MK, Banda NR, Vyawahare S, Sharma D. Biological restoration in a young patient with a complicated crown root fracture with an autogenous tooth fragment. J Clin Pediatr Dent. 2013;38(2):117–21.
Ismi N, Susanto A. Keterkaitan lesi endo-perio (Tinjauan Pustaka). Cakradonya Dent J. 2020;12(2):93–8.
Chrcanovic BR, Gomez RS. Gingival cyst of the adult, lateral periodontal cyst, and botryoid odontogenic cyst: An update systematic review. Oral Dis. 2019;25(1):26–33.
Whaites E, Drage N. Essentials of dental radiography and radiology. Fifth edition. St. Louis Missouri: Elsevier; 2013. p.337.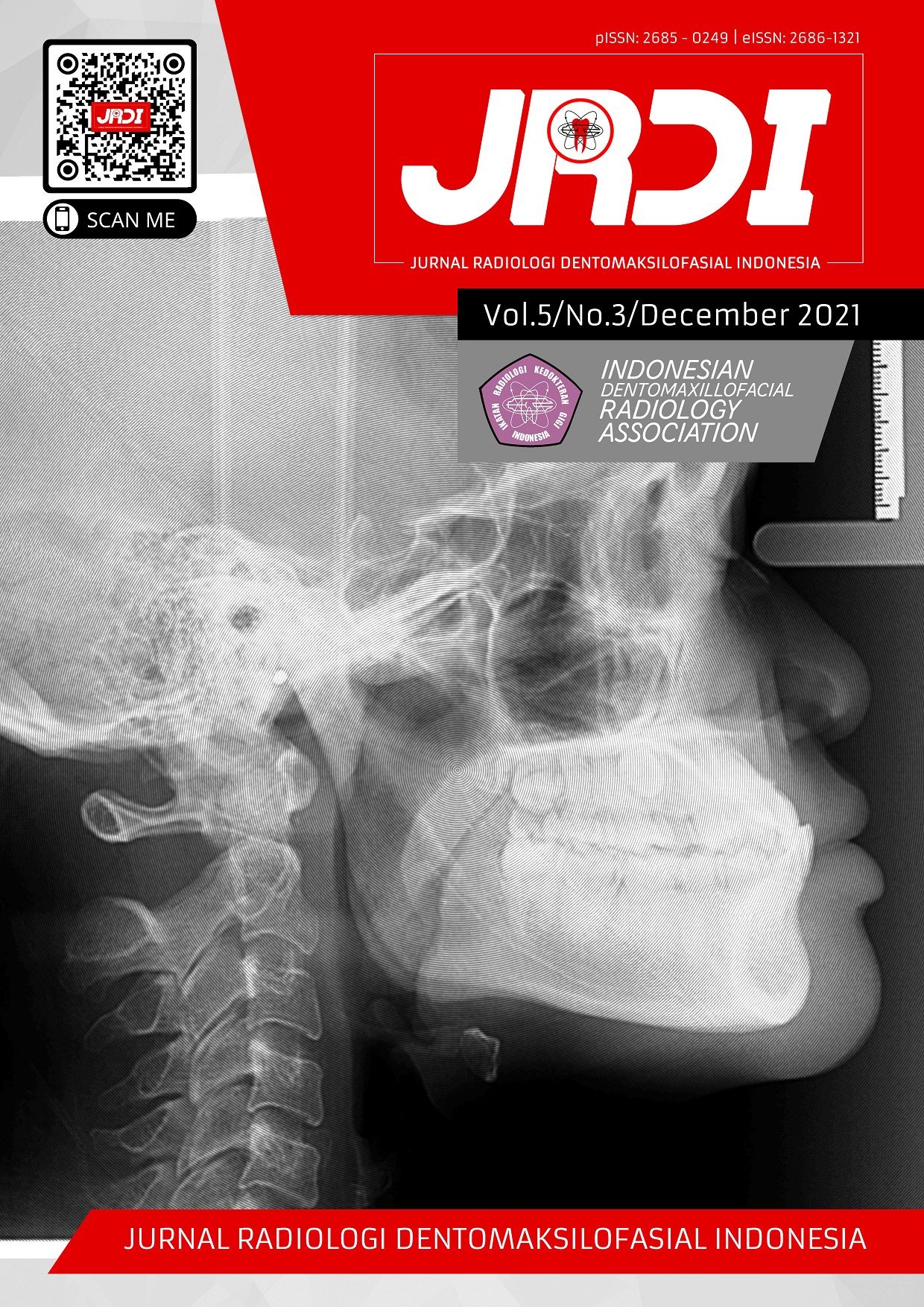 This work is licensed under a Creative Commons Attribution-NonCommercial-NoDerivatives 4.0 International License.