Panoramic radiograph measurement of upper mandibular ramus breadth for sex determination
Dinda Priscilia Septiani

Faculty of Dentistry, Universitas Trisakti, Jakarta, Indonesia 11410

Rizki Tanjung

Department of Dentomaxillofacial Radiology, Faculty of Dentistry, Universitas Trisakti, Jakarta, Indonesia 11410

Intan Farizka

Department of Dentomaxillofacial Radiology, Faculty of Dentistry, Universitas Trisakti, Jakarta, Indonesia 11410
Abstract
Objectives: This research is aimed to see the difference of the upper mandibular ramus breadth between male and female patients in Rumah Sakit Gigi dan Mulut Pendidikan (RSGMP) Fakultas Kedokteran Gigi Universitas Trisakti, West Jakarta according to radiomorphometry.
Materials and Methods: This research uses observational analytical design on 166 digital panoramic radiographs, 83 male radiographs and 83 female radiographs, of patients aged 18 and above from the Installation of Dental Radiology in RSGM-P FKG Universitas Trisakti.  The measurement was performed on left upper mandibular ramus breadth using the computer software i-Dixel version 2.2.0.3 (Morita Japan).  The data is analyzed using comparative independent t-tests to see the difference between the genders.
Results: The result of this study shows the mean value of the left upper mandibular ramus breadth in male (31.55 ± 2.66 mm ) is higher than female (29.42 ± 2.58 mm) with p-value = 0.000.
Conclusion: The upper mandibular ramus breadth measurement shows significant difference  between genders.
References
World Bank. Strengthening the Disaster Resilience of Indonesian Cities : A Policy Note. Background Paper for Time to ACT. Washington, DC: World Bank; 2019. [cited 2021 April 6]. Available from: https://openknowledge.worldbank.org/handle/10986/32459
Basman RS, Suhartono AW, Hartomo BT, Auerkari EI. Palatal rugae shapes in sex determination in forensic odontology. Journal of Stomatology. 2020 Jun 8;73(2): 87-92
Hinchliffe J. Forensic odontology, part 1. Dental identification. British dental journal. 2011 Mar;210(5): 219-24.
Indira AP, Markande A, David MP. Mandibular ramus: An indicator for sex determination-A digital radiographic study. Journal of forensic dental sciences. 2012; 4(2): 58-62.
Sairam V, Geethamalika MV, Kumar PB, Naresh G, Raju GP. Determination of sexual dimorphism in humans by measurements of mandible on digital panoramic radiograph. Contemporary clinical dentistry. 2016; 7(4): 434-9.
Maloth KN, Kundoor VK, Vishnumolakala SS, Kesidi S, Lakshmi MV, Thakur M. Mandibular ramus: A predictor for sex determination-A digital radiographic study. Journal of Indian Academy of Oral Medicine and Radiology. 2017; 29(3): 242-6.
Kumar R, Athota A, Rastogi T, Karumuri S. Forensic radiology: An emerging tool in identification. J Indian Acad Oral Med Radiol. 2015; 27(3): 416-22.
Silva RF, Nunes FG, Faria Neto JC, Rege IC, Daruge Júnior E. Forensic importance of panoramic radiographs for human identification. Rev Gaúcha Odontol. 2012; 60(4): 527-31.
Taleb NS, Beshlawy ME. Mandibular ramus and gonial angle measurements as predictors of sex and age in an Egyptian population sample: A digital panoramic study. J Forensic Res. 2015;6(5): 1-7.
Setiawati R, Rahardjo P. Bone development and growth. Osteogenesis and bone regeneration. IntechOpen; 2018. [cited 2022 January 20]. Available from: https://www.intechopen.com/chapters/64747
Rehman D, Yasmeen T, Qamar N. Correlation of mandibular ramus height and width with osteoporosis. Journal of Oral and Maxillofacial Radiology. 2017; 5(2): 40-5.
Abdulmawjood AA. Assessment of Mandibular Asymmetries in Adults: A Radiographic Study. Al-Rafidain Dent J. 2013; 13(2): 320-6.
Krishnan V, Sreela LS, Mathew P, Prasad TS. Radiographic evaluation of remodeling of mandible in adult South Indian population: Implications in forensic science. Journal of Forensic Dental Sciences. 2019; 11(3): 137-41.
Fekonja A, Čretnik A. Gender and Age Differences in Mandibular Ramus and Body Measurements: A Radiographic Study. J Hard Tissue Biology. 2022; 31(1): 9-14.
Bhagwatkar T, Thakur M, Palve D, Bhondey A, Dhengar Y, Chaturvedi S. Sex determination by using mandibular ramus-A forensic study. Journal of Advanced Medical and Dental Sciences Research. 2016; 4(2): 1-6.
Soliman A, De Sanctis V, Elalaily R, Bedair S. Advances in pubertal growth and factors influencing it: Can we increase pubertal growth?. Indian journal of endocrinology and metabolism. 2014; 18(1): S53-62.
Bonjour JP, Chevalley T. Pubertal timing, bone acquisition, and risk of fracture throughout life. Endocrine reviews. 2014; 35(5): 820-47.
Fan Y, Penington A, Kilpatrick N, Hardiman R, Schneider P, Clement J, et al. Quantification of mandibular sexual dimorphism during adolescence. Journal of anatomy. 2019; 234: 709-17.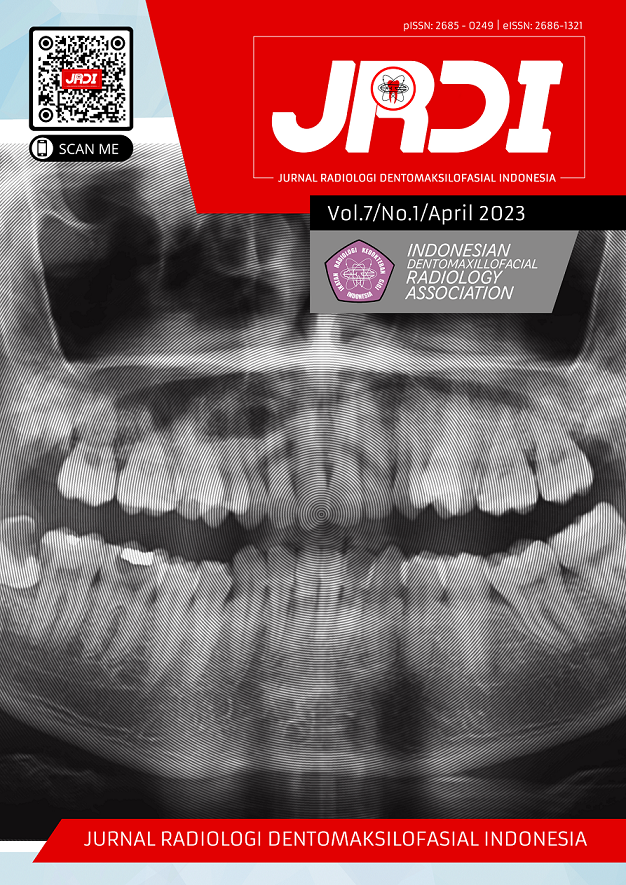 Section
Original Research Article
This work is licensed under a Creative Commons Attribution-NonCommercial-NoDerivatives 4.0 International License.