Assessment of parasymphysis and ramus fractures in pediatric patients using panoramic radiographs and CBCT: a case report
Mahindra Awwaludin Romdlon

Faculty of Dentistry, Universitas Padjadjaran, Bandung, Indonesia, 40132

Fahri Reza Ramadhan

Faculty of Dentistry, Universitas Padjadjaran, Bandung, Indonesia, 40132

Lusi Epsilawati

Department of Dentomaxillofacial Radiology, Faculty of Dentistry, Universitas Padjadjaran, Bandung, Indonesia, 40132

http://orcid.org/0000-0002-3221-747X

Diera Fitrah Kusumawardhany

Bandung Dental Hospital, Bandung, Indonesia, 40115
Abstract
Objectives: This case report aims to identify fractures that occur through panoramic radiographs and evaluated by CBCT after being given treatment.
Case Report: A 12-year-old male patient came with his older brother to the emergency room (ER) RSKGM/Bandung Dental Hospital due to the trauma of a fall by an iron football goalpost while playing soccer which caused the patient to fall onto the grass field. The patient was experiencing continuous bleeding. Systemic and allergic history was denied. Extraoral examination showed bruising with no facial asymmetry. Intraoral examination revealed a vertical gap between teeth 42 and 43, the jaw within the site was mobile, and active bleeding especially from lingual lacerations.  After consulting with Dental Surgery Specialist, the emergency room doctor gave interdental wiring. After 2 months post wiring, a CBCT photo evaluation was carried out.
Conclusion: The mandibular fracture in this case report was well identified by clinical examination and supported by panoramic radiography. After that the patient was given treatment and evaluated through CBCT. CBCT provides a clearer and better picture.
References
Sanghai S, Chaterjee P. A Concise Textbook of Oral and Maxillofacial Surgery. First. New Delhi: Jaypee Brothers Medical Publishers (P) Ltd; 2009. p.235.
Fırat C, Elmas Ö, Aytekin AH, Geyik Y, Erbatur S. Surgical Modalities in Maxillo-Facial Fractures: Retrospective Analysis of 110 Patients, Eur J Gen Med. 2012;9(4):258-64.
Miloro M, Ghali GE, Larsen PE, Waite PD. Peterson's Principles of Oral and Maxillofacial Surgery - Third Edition. 3rd ed. Vol. 2. Shelton, Connecticut: People's Medical Publishing House; 2011. p.407-10.
Morris C, Bebeau NP, Brockhoff H, Tandon R, Tiwana P. Mandibular fractures: an analysis of the epidemiology and patterns of injury in 4,143 fractures. J Oral Maxillofac Surg. 2015 May;73(5):951.e1-951.e12.
Lin FY, Wu CI, Cheng HT. Mandibular Fracture Patterns at a Medical Center in Central Taiwan: A 3-Year Epidemiological Review. Medicine (Baltimore). 2017;96(51):e9333.
Yadav RR, Yadav AR, Dhond Prakash V. Fracture Mandible. New Delhi: Jaypee Brothers Medical Publishers (P) Ltd.; 2012. p.18-25.
Kumar R, Kulkarni P, Purohit J, Abraham AA, Vipindas, Rehman SQM. Patterns & incidence of mandibular fractures: an epidemiological study. European Journal of Molecular & Clinical Medicine. 2020; 7(11):7144-9.
Wedayanti DPK, Dinatha GNK, Partama PG, Saputra, MKA. Management of mandibular parasymphysis fracture: a case report. Int. J Adv Med. 2021; 8(9):1423-26.
Kaur G, Singh B. Prevalence of mandibular fracture visiting in a tertiary care hospital. Journal of Advanced Medical and Dental Sciences Research. 2020; 8(1):1878-80.
Habibi A, Hakim A, Adhani R, Sukmana BI. Deskripsi Fraktur Mandibula pada Pasien Rumah Sakit Umum Daerah Ulin Banjarmasin Periode Juli 2013 – Juli 2014 (Studi Retrospektif Berdasarkan Insidensi, Etiologi, Usia, Jenis kelamin, dan Tatalaksana). Dentino (Jur. Ked. Gigi). 2016;1(2):191-6.
Putri RAD, Pamungkas KA, Mursali LB. Angka Kejadian Fraktur Mandibula Berdasarkan Lokasi Anatomis di RSUD Arifin Achmad Provinsi Riau Periode Januari 2011—Desember 2013. Jurnal Online Mahasiswa FK. 2015;2(2):1-14.
Tiboni F, Scariot R, Gebert AO, Signorini L. High mandibular ramus fracture-endoscopy treatment: a case report in adult Fernanda. RSBO. 2017 Oct 16;1(2):106.
Bonanthaya K, Panneerselvam E, Manuel S, Kumar VV, Rai A. Oral and Maxillofacial Surgery for the Clinician. Singapore: Springer Singapore; 2021. p.1052-65.
Brar R, Goel M, Arora KS, Mankel H. Management of Mandibular Symphyseal Fracture: A Case Report. J Res Adv Dent 2016; 5: 3: 298-300.
Filinte GT, Akan İM, Çardak GNA, Mutlu ÖÖ, Aköz T. Dilemma in pediatric mandible fractures: resorbable or metallic plates?. Ulus Travma Acil Cerrahi Derg. 2015;21(6):509–13.
Moore UJ. Principles of Oral and Maxillofacial Surgery Sixth Edition. Sixth. Chichester, West Sussex,: Blackwell Publishing Ltd; 2011. p.262-65.
Pickrell B, Serebrakian A, Maricevich R. Mandible Fractures. Semin Plast Surg. 2017 May 9;31(02):100–7.
Siy RW, Brown RH, Koshy JC, Stal S, Hollier LH. General Management Considerations in Pediatric Facial Fractures. Journal of Craniofacial Surgery. 2011 Jul;22(4):1190–5.
Nezam S, Kumar A, Shukla J, Khan S. Management of mandibular fracture in pediatric patient. Natl J Maxillofac Surg. 2018;9(1):106-9.
Bachani Chopra L, Lingappa A, Singh M, . A. Mandibular Fractures and their Radiographic Diagnosis. Acta Scientific Dental Scienecs. 2020 Jul 2;4(7):161–71.
Naeem A, Gemal H, Reed D. Imaging in traumatic mandibular fractures. Quant Imaging Med Surg. 2017 Aug;7(4):469–79.
Nardi C, Vignoli C, Pietragalla M, Tonelli P, Calistri L, Franchi L, et al. Imaging of mandibular fractures: a pictorial review. Insights Imaging. 2020 Dec 19;11(1):30.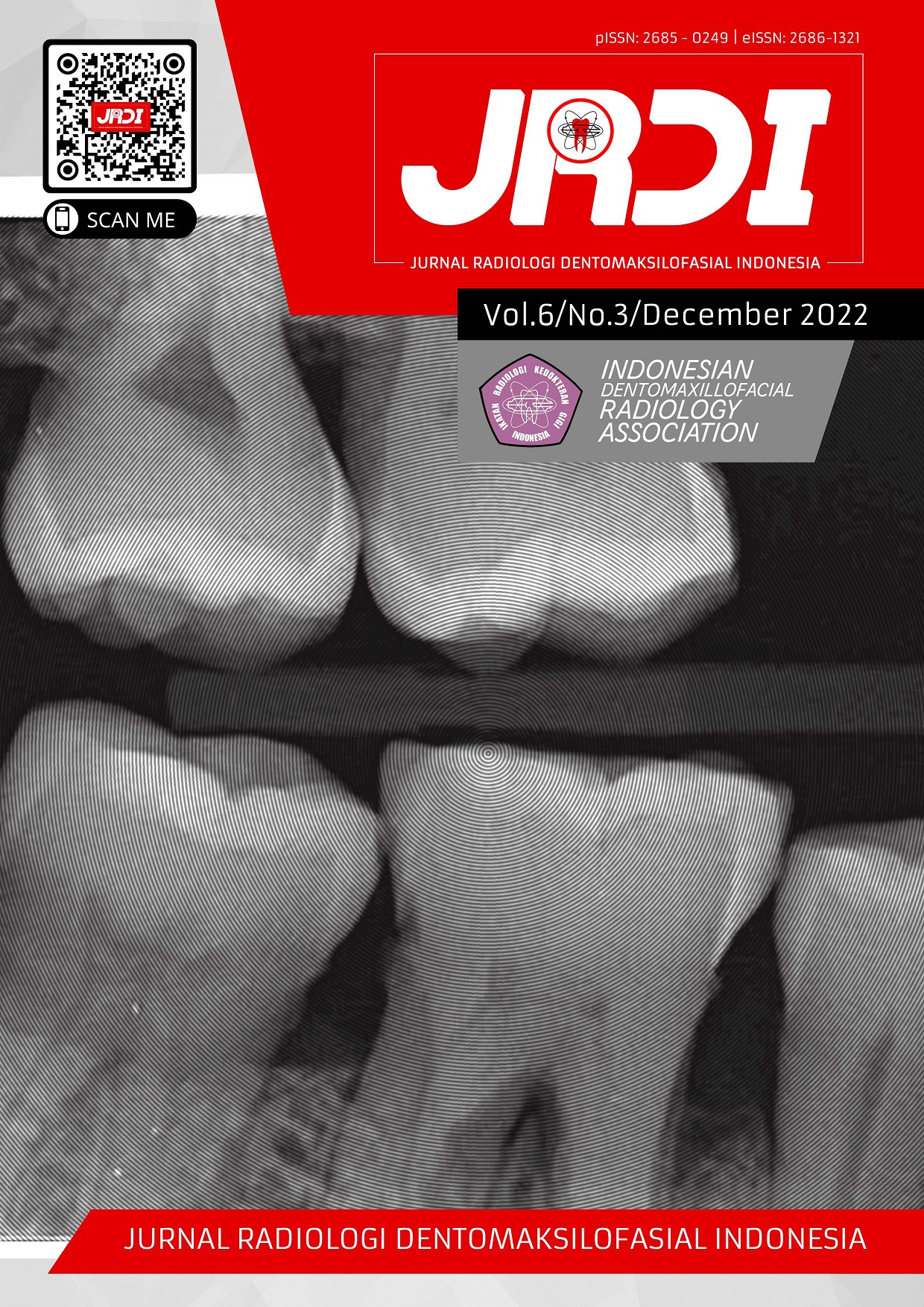 This work is licensed under a Creative Commons Attribution-NonCommercial-NoDerivatives 4.0 International License.