Non-syndromic multiple odontogenic keratocyst finding with Cone-beam Computed Tomography (CBCT): A rare case report
Ichda Nabiela Amiria Asykarie

Faculty of Dentistry, Universitas Padjadjaran, Bandung, Indonesia, 40132

Farina Pramanik

Department of Dentomaxillofacial Radiology, Faculty of Dentistry, Universitas Padjadjaran, Bandung, Indonesia, 40132

http://orcid.org/0000-0003-4590-4751
Abstract
Objectives: The aim of this case report is to describe the radiograph pattern of non-syndromic multiple odontogenic keratocyst (OKC). The oral and maxillofacial region was frequently affected by the developmental odontogenic cyst known as OKC, which develops from the dental lamina or its remnants.  The nevoid basal cell carcinoma syndrome (NBCCS) or the Gorlin-Goltz syndrome was typically associated with multiple OKC; however, in about 5% of patients, there were many cysts without a concurrent syndromic presentation.
Case Report:  A 38- year-old female came to the dental radiology installation of the Dental and Oral Hospital, Universitas Padjadjaran, who had been referred for a CBCT examination. She had a history with a dentist about 1 month ago, complaining of dislodged fillings on anterior mandible teeth and complaints of missing several posterior mandible teeth. The patient had a previous panoramic examination; multiple radiolucent lesions were found incidentally. She has no pain, and clinical features showed no evidence of swelling; then, the dentist recommended a CBCT examination with a suspect dental cyst on a posterior mandible dextra.
Conclusion: Based on the examination results, it was concluded that the cone beam computed tomography examination showed the radiolucent lesion, well-defined with a scallop border; this case was radiodiagnosis as  suspected non-syndromic multiple odontogenic keratocyst.
References
Pogrel MA. The keratocystic odontogenic tumor. Oral Maxillofac Surg Clin. 2013;25(1):21-30.
Rai S, Rana AS, Kalra P, Gupta D, Goel S. Multiple keratocystic odontogenic tumors in a non-syndromic minor patient: Report of an unusual case. J Orofac Sci. 2013;5(1):61-6.
Jamwal SK, Rai KK, Ramakanth CK, Veerbhadrappa UK, Geetha NT. Multiple Odontogenic Keratocysts in Nonsyndromic Patients—A Case Report and Review of Literature. J Contemp Dent. 2019;9(1):46-52.
Narsapur SA, Choudhari S, Warad NM, Manjunath S. Non-syndromic multiple odontogenic keratocysts associated with dental anomalies: A report of an unusual case and its management. J Indian Acad Oral Med Radiol. 2015;27(2):268-72.
Guruprasad Y, Chauhan DS. Multiple odontogenic keratocysts in a nonsyndromic patient. J Cranio-Maxillary Dis. 2012;1(1):36-40.
Sohanian S, Seifi S, Dezfouli MK, Kiani M, Khakbaz O. Non-syndromic Multiple Keratocystic Odontogenic Tumor: A Case Report. J Otolaryngol Adv. 2017;2(1):7-11.
Kargahi N, Kalantari M. Non-syndromic multiple odontogenic keratocyst: a case report. J Dent (Shiraz). 2013;14(3):151-4.
Ozkan L, Aksoy S, Orhan K, et al. Case report: multiple keratocystic odontogenic tumour in a non-syndromal pediatric patient. Eur J Paediatr Dent. 2014;15(2 Suppl):241-4.
Slusarenko da Silva Y, Naclério-Homem MG. Conservative treatment of primary and nonsyndromic odontogenic keratocyst: an overview of the practice. Int J Oral Dent Heal. 2018;4(2):1-6.
Avril L, Lombardi T, Ailianou A, et al. Radiolucent lesions of the mandible: a pattern-based approach to diagnosis. Insights Imaging. 2014;5:85-101.
EI-Naggar AK. WHO Classification of Head and Neck Tumours. International Agency; 2017.
Borghesi A, Nardi C, Giannitto C, et al. Odontogenic keratocyst: imaging features of a benign lesion with an aggressive behaviour. Insights Imaging. 2018;9(5):883-97.
Koenig LJ, Tamimi DF, Perschbacher SE. Diagnostic Imaging: Oral and Maxillofacial E-Book. Elsevier Health Sciences; 2017.
Bilodeau EA, Collins BM. Odontogenic cysts and neoplasms. Surg Pathol Clin. 2017;10(1):177-222.
Aragaki T, Michi Y, Katsube K, et al. Comprehensive keratin profiling reveals different histopathogenesis of keratocystic odontogenic tumor and orthokeratinized odontogenic cyst. Hum Pathol. 2010;41(12):1718-25.
Harmon M, Arrigan M, Toner M, O'Keeffe SA. A radiological approach to benign and malignant lesions of the mandible. Clin Radiol. 2015;70(4):335-50.
Golgire SM, Varekar AA, Patil A, Shetti SS, Magdum D. Non-syndromic multiple odontogenic keratocysts: a case report and comparison with syndromic multiple odontogenic keratocysts. J Clin Case Rep. 2016;6(6):818.
Ashoka CA. Non syndromic multiple keratocystic odontogenic tumour occurring in both the jaws: case report and review of literature. IOSR J Dent Med Sci. 2015;14(1):35-41.
Habibi A, Jafarzadeh H. Nevoid basal cell carcinoma syndrome: a 17‐year study of 19 cases in Iranian population (1991–2008). J oral Pathol Med. 2010;39(9):677-80.
Al-Moraissi EA, Pogrel MA, Ellis III E. Does the excision of overlying oral mucosa reduce the recurrence rate in the treatment of the keratocystic odontogenic tumor? A systematic review and meta-analysis. J Oral Maxillofac Surg. 2016;74(10):1974-82.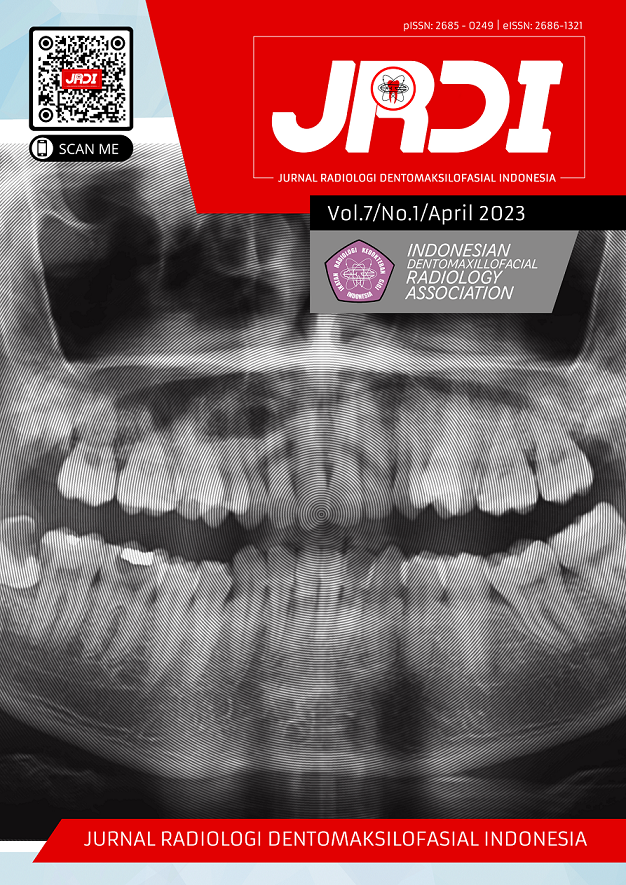 This work is licensed under a Creative Commons Attribution-NonCommercial-NoDerivatives 4.0 International License.